SmartWeb offers integration to well-known social media i.e. Facebook, Instagram, Google+ and Twitter - and this is within the standard system.
SmartWeb's integration to social media lets you utilise functions, offered by these, directly on your website. Your visitors can thereby provide you with their immediate feedback, share content and "like" your website, which is then visible to everyone in their network afterwards. You are suddenly capable of rapidly increasing the knowledge of your website in no time.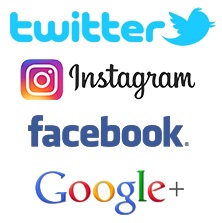 This is how the integration works
The majority of the integrations to the various social media are working independently, which means that your company does not necessarily have to create a profile on the different media. However, some of the functions are dependent on a company profile on the social network in order for them to make sense. Among these are "follow us" on Twitter and the "like" box from Facebook, as these refer to content from a profile.

When you want to use one or more of the functions, you simply have to log into SmartWeb; find the specific site and activate the functions simply by clicking on them.

Functions
Facebook - 'like'-button, 'send'-button, display of comment, suggestions for visitors, live stream, 'like'-boxGoogle+ - '+1'-knap
Google+ - '+1'-button
Twitter - Twitter-button
Instagram - Follow-button