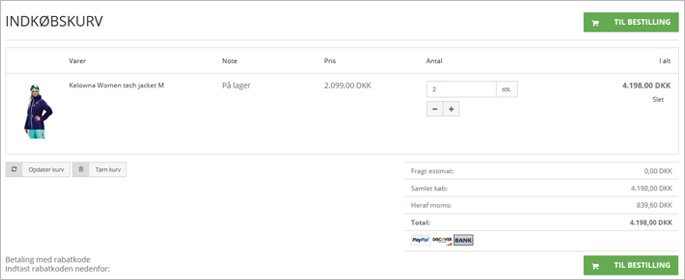 Ordering in 1 Step
SmartWeb's checkout (ordering) in 1 step and it is the easiest for customers and therefore optimal for your sales.
Multiple Payment Methods
You can choose if your customers should pay with credit card, invoice, mobilepay, netbank etc.
Gift Wrapping
Offer your customers the option to have their order gift-wrapped. You choose if it should be a free service.
Discount Codes
Give your good customers a discount code or use them for your campaigns and increase your sales.
SSL certificate
Add an SSL certifikate to your web shop and protect all of your content, credit card information and transaction information.
Shipping is Standard
SmartWeb contains a standard shipping setup, i.a. GLS Pakkeshop.
Credit Card Payments
SmartWeb is integrated with all the big Danish payment modules and therefore can offer credit card payments.
Offer Free Shipping
Would you like to offer a free shipping service to your customers? It is now easy to set it up in your SmartWeb web shop.