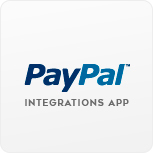 PayPal without monthly subscription.
As a standard, SmartWeb offers access to the PayPal payment method. PayPal does not have a monthly subscription; however, the payment method costs a fee every time an order is placed in your online store.
Simultaneously, PayPal enables purchases from a number of different payment cards, as well as payments made directly via PayPal, which might increase your revenue all together.
How it works
First of all, you need to have a "business account" with PayPal. There is no cost, and it can be created on PayPal's website. The account must be set up properly and approved so that it is ready for integration with your SmartWeb webshop.
After you insert your PayPal username in your SmartWeb Webshop, your customers can pay with PayPal and several other payment cards such as Visa, Mastercard and American Express. With PayPal you get the money immediately from the customer's account or card, and the order is processed finished in SmartWebs order module.
Card types and packages
With PayPal, you have the opportunity to choose between two different packages: Website Payments Standard and Express Standard. We recommend you to read more about the different packages on PayPals website so you can decide which package best suits your online store.
Get started
1.You need a businessaccount at PayPal. Read more ind our online manual.
2. Then you need to activate PayPal on your SmartWeb webshop. Readmore in our online manual.
3. Get a free account at PayPal here.

Help
If you need more information about this integration you are welcome to contact our support. We will be happy to help you.